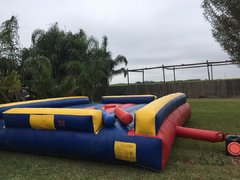 Joust
$175.00
Dimensions: 21'L X 21'W X 4'H
Set Up Area:
Outlets:
Climb to your perch above the air-filled mat. Here's your chance to be a gladiator! The sounds of battle fill your ears as you begin to joust. Maintain your balance and send your opponent crashing to the mat. Let's see what you've got!
A great inflatable rental for graduation parties, high Schools, and birthday parties.