RGV Party Rentals- Is the Only manufacture of infltables in South Texas, We are also the Largest reseller of used mechincal rides In Texas

We can custom design any inflatable you are need and our turn arounf is 4 business days. All of our in house desinged infllabtles are guranteed to pass any Texas inpsection or your money back. See pricing and pictures of our work below.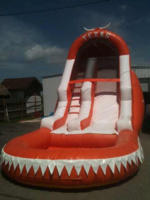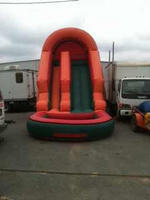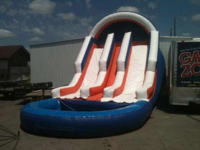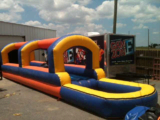 All items for sae are posted on the professsional operator group page.
MOONWALKS $1400 W/BLOWER AND STAKES AND REPAIR KITS YOU PICK THE COLORS
SLIP N SLIDES $1600 INCLUDES BLOWER AND REPAIR KIT
WATERSLIDES $1995 18' W/POOL W/ BLOWER AND STAKES AND REPAIR KITS YOU PICK THE COLORS

Used Mechincal Rides- We currently have two bulls- 5,000 each , Pirate Swing 20,000 and two Ferris Wheels 10,000, and two Rock Walls for 10,000 each . All rides are sold but pending for paymnet. All pics are listed on the rental side of our website and feel free to reach out to back out to us if you would like to be contacted for first writer refusal.

Note: ALL INFLATABLES ARE MADE OUT 18OZ FIRE RETARDENT VINYL WITH 2 YEAR WARRANTY MADE IN SOUTH TEXAS WE MAKE THEM REPAIR THEM AND RENT THEM
FOR MORE INFORMATION, OR TO PURCHASE A MOONWALK, WATER SLIDE, SLIP N SLIDE, OrGently Used Mechincal Rides PLEASE CALL US AT 956-742-2132.