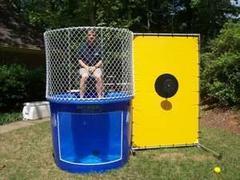 Dunking Booth
$125.00
Dimensions:
Set Up Area:
Outlets:
Classic Carnival Dunk Tank
Our dunk tanks have been delighting crowds for years. The concept of dunking the boss at the company picnic, or dunking your teacher at fundraiser events has become a local pastime. Dunk Tanks have always been a leading money maker at fairs, carnivals, and block parties as well as great entertainment for spectators.

Our dunking booths are 500 gallon tanks with a window. We require the customer to have a water source at the location we set the dunk tank up at. It takes about an hour to fill our Dunk Tanks from a standard water source. Our Dunking booths are very large and require a full size gate to move the dunk tanks through. By full size gate we mean a gate wide enough to drive through. Our staff will not lift the Dunk Tank over a fence or gate.